Get free Simple Selfcare & special offers now!
Bodytool (Out of Stock)
Bodytool® the Bodyworkers friend. Bodytool® is a simple to use and remarkably effective, therapy tool. Originally designed for therapeutic use and developed for performing deep tiss ... [more below]
Bodytool® the Bodyworkers friend.
Bodytool® is a simple to use and remarkably effective, therapy tool. Originally designed for therapeutic use and developed for performing deep tissue therapy on muscles and Myofascia which is the glue that binds them together.
Nearly two decades of clinical use have demonstrated Bodytool® is also safe in the hands of a novice.
Bodytool® is a fast way for therapists and the public to locate and treat long term adhesions and injury. It's also gentle enough to relax an infant and get them to sleep.
Save your knuckles, fingers thumbs and wrists. Get yourself a Bodytool®
The Bodytool from Azolla Health; the professionals choice.
Archeological finds show that 3500 years ago man used Jade massage tools for medical massage, perhaps understanding even then, "The body won't fight stone" Nearly two decades of treating deep tissue injuries have shown us at Azolla Health this ancient knowledge of treating muscle tension with stone is invaluable, using the Bodytool a therapists is able to work far more deeply than hands, knuckles elbows or other tools because they simple don't elicit the same pain spasm response.
Today Bodytools are in use by Physiotherapists, Massage therapists, Chiropractors, Reflexologists and Veterinarians right around the globe and are ideal for the therapist that needs to work quite specifically and very deeply on unresponsive injuries. Bodytool easily generates Thixotropic responses in deep fascia to release even very old Myofascial adhesions and muscle tension, in minutes, without the need for long warm ups.
The quartz tip is used for locating and releasing general tension and adhesions, then for relaxing, flushing and calming the tissue after treatment. The greenstone tip is used for the hard work and around joints.
The specific stones in the tips and their shapes were selected after hundreds of trial versions fell short for a variety of reasons. To be effective we found their hardness is required to be at least 6 on the Mohs scale, (the quartz tips are 6.8 and the Greenstone tips are7.2 Diamonds are 10) Bodytool had to be electrically and energetically or Chi balanced as well because you use minute electrical charges to tell your muscles when and how to move the Greenstone tip which is Yang, positive, or male energy, has been shaped to do the very hard to get at muscle, joint, or scars, and the Quartz or Amethyst tips which are the Yin or negative and calming female energy are designed for assisting in general deep tissue work for deep myofascial releases, delivering faster recovery, healing, and support for emotional injury treatments.
Save your hands and thumbs and do a better faster job for your client's sake! Get a Bodytool now!
If you have any questions on specific applications or want further info contact us and we will do our best to assist.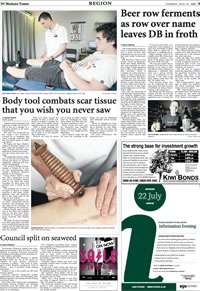 "Body tool combats scar tissue that you wish you never saw"
By Natalie Akoorie, Health reporter. Waikato Times, July 21st 2009
Hamilton physiotherapist John Appel has a large scar on his elbow he got as a teenager in a motocross accident in his native United States.
But since the 35-year-old began using a new treatment, invented by an Auckland deep tissue massage therapist, the scar has slowly begun to soften and lighten.
Mr Appel, who has a Masters Degree in Physical Therapy, has been using the technique on a range of clients who have either external or internal scar tissue – and the results have been dramatic.
"I've definitely noticed a difference. In the last six months I've noticed scar tissue (on patients) completely softening and completely disappearing." ... [Read more]
---
Testimonials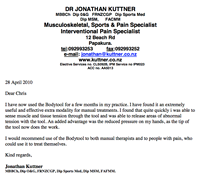 DR JONATHAN KUTTNER
MBBCh Dip 0&G FRNZCGP Dip Sports Med Dip MSM, FACMM
Musculoskeletal, Sports & Pain Specialist. Interventional Pain Specialist
Dear Chris
I have now used the Bodytool for a few months in my practice. I have found it an extremely useful and effective extra modality for manual treatments. I found that quite quickly i was able to sense muscle and tissue tension through the tool and was able to release areas of abnormal tension with the tool. An added advantage ... [Read more]
---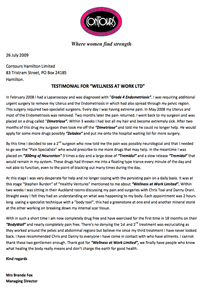 Brenda Fox
26 July 2009
Contours Hamilton Limited
83 Tristram Street
PO Box 24185
Hamilton
In February 2008 I had a Laparoscopy and was diagnosed with "Grade 4 Endometriosis". I was requiring additional urgent surgery to remove my Uterus and the Endometriosis in which had also spread through my pelvic region. This surgery required two specialist surgeons. Every day I was having extreme pain. In May 2008 my Uterus and most of the Endometriosis was removed. Two months later the pain returned. I went back to my surgeon and was placed on a drug called "Dimetriose". Within 3 weeks I had lost all my hair and become extremely sick. After two months of this drug my surgeon then took me off the "Dimetriose" and told me he could no longer help. He would apply for some more drugs possibly "Zoladex" and put me onto the hospital waiting list for more surgery. [Read more]
Write a review
First Name:
Your Review:
Note: HTML is not translated!
Rating:
Bad
Good
Enter the code in the box below: